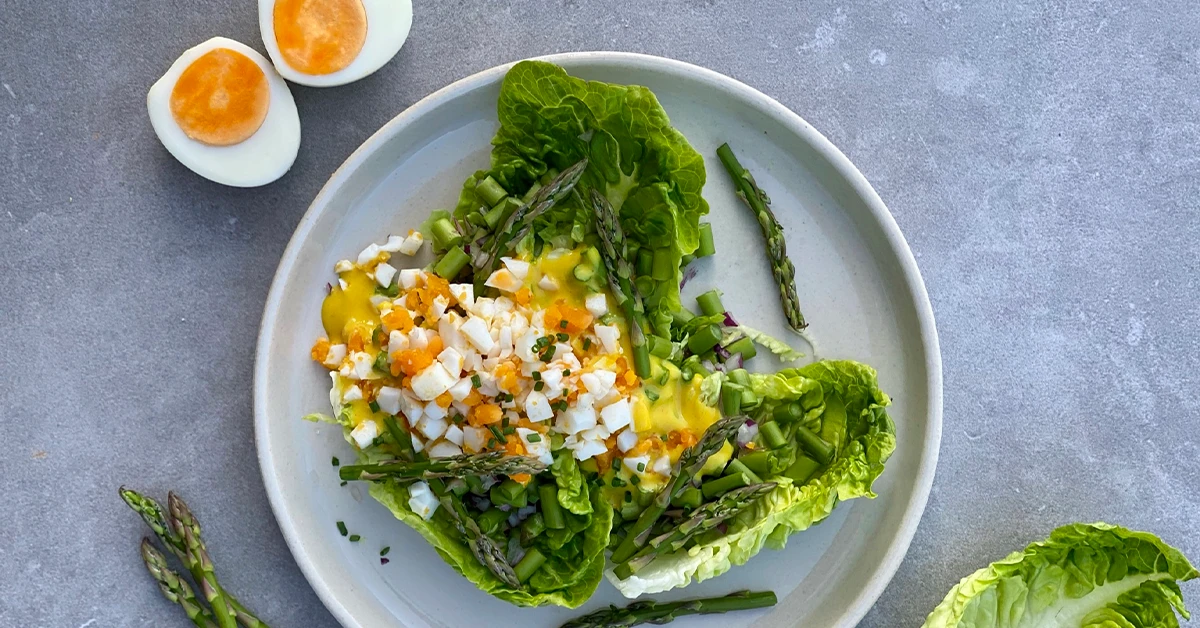 A seasonal and refreshing take on the classic chopped salad! Using asparagus, chives, eggs and lettuce, this salad is easy to assemble and a crowd pleaser. For a hearty meal, add an additional protein of your choice right for your blood type!
The Blood Type Diet made easy
Find more nourishing recipes like this in Dr. Peter D'Adamo's Eat Right 4 Your Type Personalized Cookbooks. Each book features chef-formulated recipes designed specifically for your blood type. Each recipe is easy to follow and delicious, making meal planning stress free.
Check food values, see in-depth food analyses and access even more recipes for each blood type and secretor status with TypeBase V. Programmed by Dr. Peter D'Adamo himself, our food values lookup tool is a simple to use resource that makes following the Blood Type Diet easy.
Our Official Blood Type Diet App keeps all the information you need at your fingertips. Check food values for you or common foods for the whole family, create a shopping list you can email to yourself, get supplement recommendations and access categorized recipes.
---
Serves 4
Ingredients:
1 baby gem lettuce, leaves separated into individual "cups"
1 baby gem lettuce, finely sliced
8 oz fine asparagus, chopped; tips reserved
3 hard boiled eggs, chopped
½ red onion, finely minced
2 tsp chives, finely minced
1 lemon, zest
3 tbsp olive oil
1 tsp salt
Ingredients for the dressing:
2 eggs, hard boiled
4 tbsp yogurt, right for your type*
1 tsp celery salt
½ - 1 tsp turmeric, ground
½ tsp coriander, ground
1 tbsp olive oil, optional
*Use our Official Blood Type Diet App or TypeBase V Food Values Lookup to see whether dairy, almond, soy or rice yogurt will be best for you.
Instructions:
To prepare the chopped salad, mix the sliced gem lettuce, asparagus, red onion, chives and lemon zest in a bowl with the olive oil and salt. Reserve.
To prepare the dressing, pulse 2 eggs, yogurt and spices in a food processor until smooth and creamy. For a looser consistency add a little olive oil or more yogurt, and pulse to combine. Keep refrigerated.
To plate the salad, spoon the chopped vegetable mixture into lettuce "cups" and top with the creamy turmeric dressing, asparagus tips and 1 chopped egg.
Tips:
Food prep: double up and prepare a large batch of the turmeric dressing, and keep refrigerated in a mason jar or airtight container for up to a week.
Picnic packing: This salad is very practical at picnics as the salad boats are practical to eat. To transport, assemble them and lay flat in a single layer and keep in an insulated container to keep cool.
---