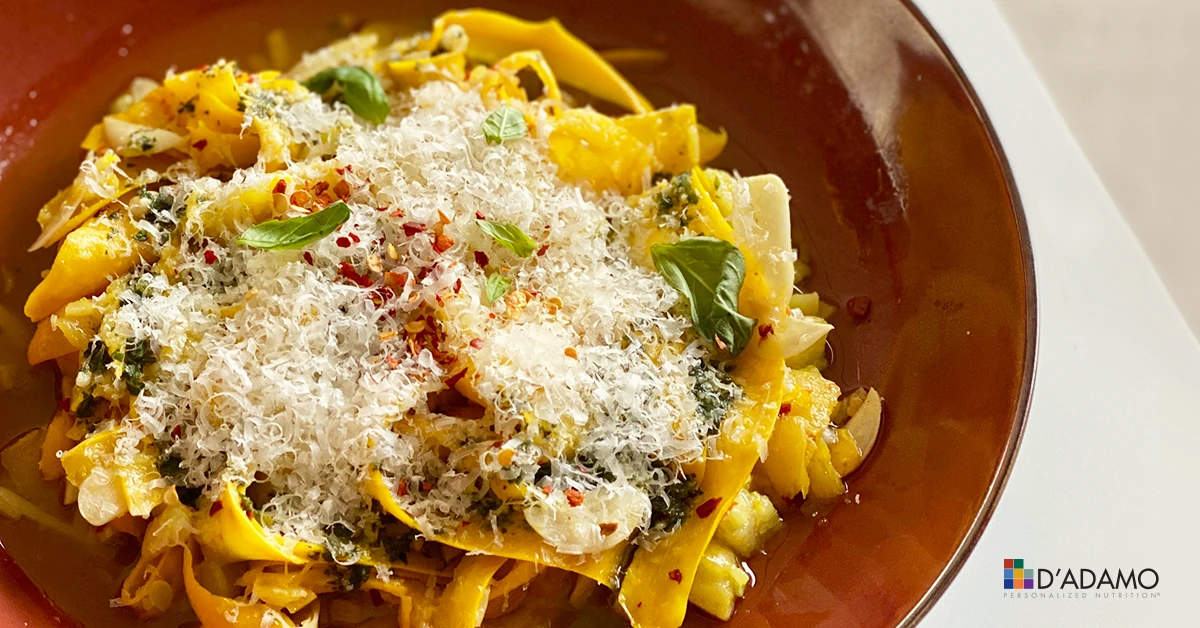 Finding pasta that is right for all types can be a challenge. Using zucchini or squash can be a fun and healthy way to create your favorite pasta dishes. Based on an Italian classic, this zucchini noodle variation of Spaghetti Aglio Olio is dinner perfection! Find more nourishing recipes like this in Dr. Peter D'Adamo's Eat Right 4 Your Type Personalized Cookbooks.
Serves 2
Ingredients
Ingredients for zucchini
2 large yellow or green zucchinis/squash
2 tsp sea salt
2 tbsp olive oil
4 garlic cloves, peeled and thinly sliced
Lemon zest, finely minced
1 tsp chili flakes*
1 tbsp rock salt
Pecorino romano, grated (optional garnish)
*Chili Flakes are an Avoid for types A & AB.
Ingredients for Basil Oil
¼ cup fresh basil
1 tbsp almonds, toasted
½ cup olive oil
Instructions:
With a slicer, thinly slice the zucchini until you get to the wet seedy core.
Slice the widest strips in half lengthwise so all the strips are of similar size.
Finely mince the core and reserve.
To prepare the basil oil, place the basil, almonds and olive oil in a food processor and pulse until smooth. Season to taste.
In a large pan over low heat, slowly cook the garlic with the lemon zest and chili, if using, for 10-15 minutes until it turns golden and soft.
Raise the heat to medium, add the chopped zucchini core to the pan, season with salt, stir and cook for an additional 5 minutes or until most of the moisture has evaporated. Turn the heat down to low while you cook the zucchini-ribbon pasta.
Salt the pot of boiling water with the rock salt and boil the zucchini ribbons for 3 minutes.
Transfer the cooked zucchini ribbons to the pan with the garlic, mix well until all ingredients are well coated in the oil.
Plate the coated zucchini ribbons in a bowl, drizzle the basil oil on top, and garnish with Pecorino. Mix well and enjoy warm!
---