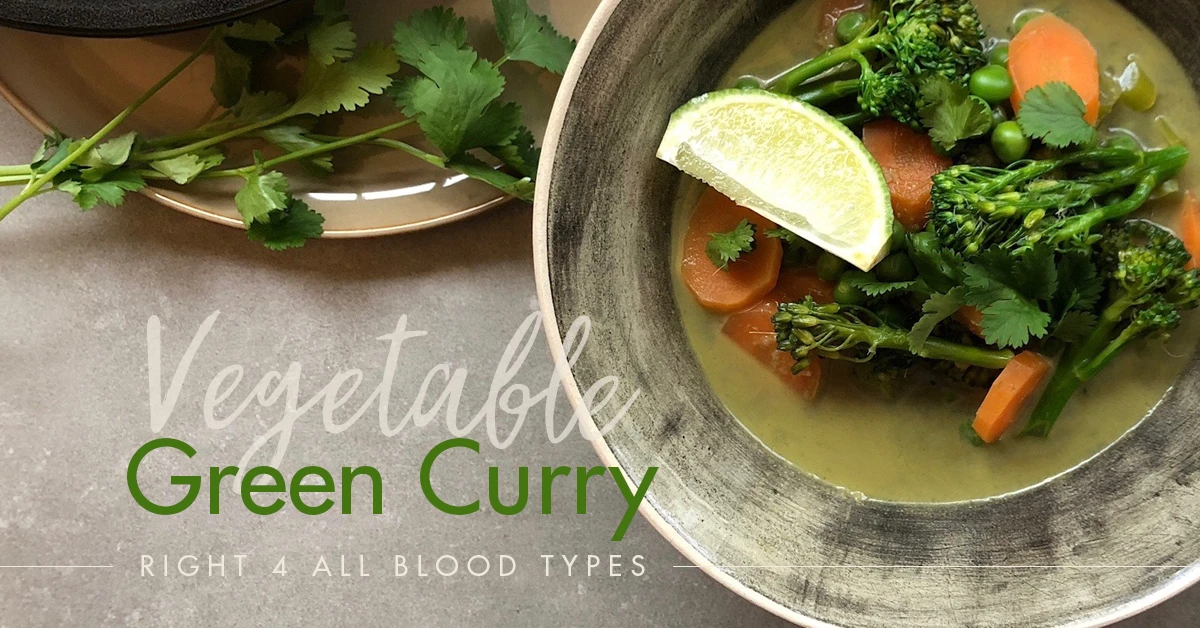 A green curry has enough kick to warm up those winter evenings with punchy ingredients that will boost your metabolism and protect you from illness too. If you think making a green curry from scratch is daunting, think again. Make the base in just minutes and keep it refrigerated for up to 3 days to make a fresh batch.
This recipe is great for people starting the year off by detoxing because it is very light, made with vegetable stock instead of the traditional coconut cream base. The best part is that we made this recipe with all blood types in mind, so everyone can enjoy!
Vegetable Green Curry
[Serves 2]
Ingredients

Paste Ingredients:

A small bunch of basil, leaves picked
A small bunch of cilantro, leaves picked and stems reserved
1.5oz fresh ginger, peeled
1 stick of lemongrass, roughly chopped
1 shallot, peeled and roughly chopped
3 cloves garlic, peeled and roughly chopped

Curry Ingredients:

1 tablespoon extra-virgin olive oil
1 teaspoon paprika (optional)
2 cups vegetable stock
2 carrots, peeled and sliced no more than half an inch thick
1 cup fresh peas
7oz purple sprouting broccoli, florets cut and stalks sliced and reserved
1 zucchini (optional) halved and sliced no more than half an inch thick
Cilantro leaves, for garnish
Sea salt, to taste

Directions

To make the paste, place the basil, cilantro stems, ginger, lemongrass, shallot and garlic cloves in a food processor and blend until a smooth paste forms. Add a dash of water if the paste is too thick.
In a pan over medium heat, warm the olive oil. Add the curry paste and, if you wish, paprika, then stir for 5 minutes. Add the vegetable broth and simmer for an additional 5-8 minutes.
Transfer the sauce to a food processor, and blend until smooth.
Return the sauce to the pan over medium heat, and simmer. Season with salt to taste. Add the carrots and broccoli stems and cook for 10 minutes. Add the broccoli florets and cook for another 3 minutes (you want to them to retain their crunch). Finally add the peas, cook for a minute, stir well and remove from the heat. Sprinkle the cilantro leaves on the curry and serve hot.

Tips

If using zucchini, use only 1 carrot and add them to the curry with the broccoli florets.
If you are type B or O and want to spice things up, add half a green chili in the oil before cooking the paste.
Serving suggestion: The curry can be enjoyed with quinoa or rice.