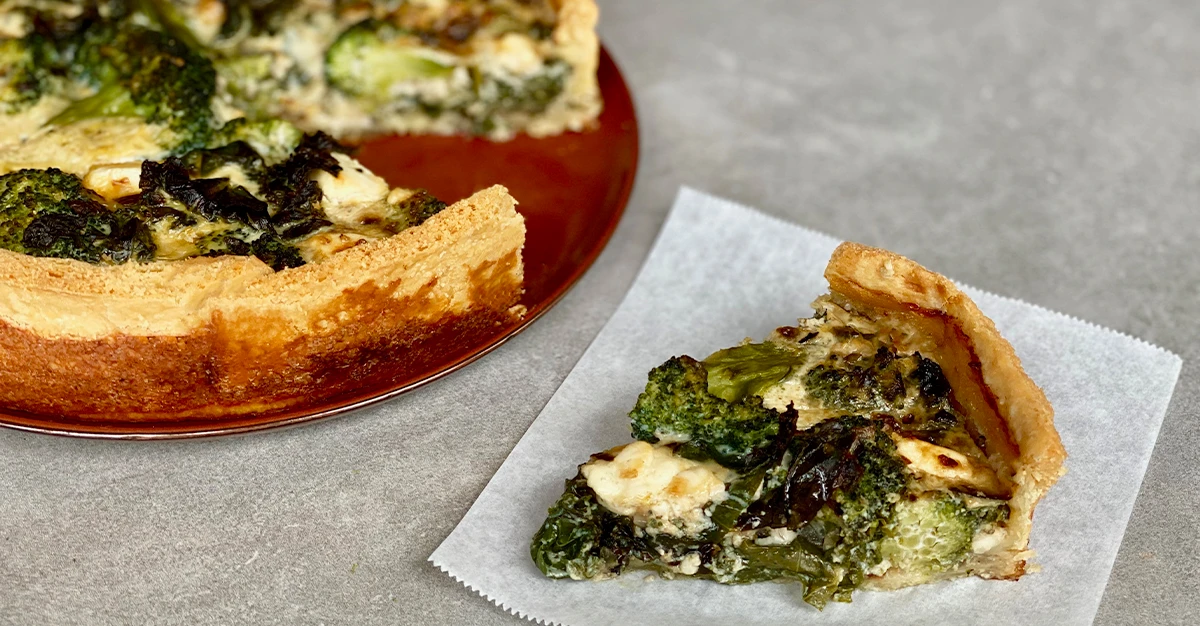 This hearty pie makes the best of spring produce! Featuring ingredients like broccoli and spinach, this recipe is as healthy as it is delicious. Broccoli is Beneficial for all blood types, making this recipe perfect for the whole family. We've included additions and substitutions that are right 4 all types, so many variations can be made to keep this recipe exciting. Leftovers also make for an easy lunch.
The Blood Type Diet made easy
Find more nourishing recipes like this in Dr. Peter D'Adamo's Eat Right 4 Your Type Personalized Cookbooks. Each book features chef-formulated recipes designed specifically for your blood type. Each recipe is easy to follow and delicious, making meal planning stress free.
Check food values, in-depth food analyses and access to even more recipes for each blood type and secretor status with TypeBase V. Programmed by Dr. Peter D'Adamo himself, this TypeBase Food Value lookup is a simple to use resource that makes following the Blood Type Diet easy.
Our Official Blood Type Diet App keeps all the blood type diet information you need at your fingertips. Check food values for you or common foods for the whole family, create a shopping food list you can email to yourself, and get supplement recommendations and access to categorized recipes.
---
Serves 6
Ingredients:
Ingredients for Pie Crust:
2 tbsp quinoa flour
⅓ cup millet flour
⅔ cup spelt flour, plus more for dusting*
1 tsp baking powder
½ tsp salt
4 tbsp butter** or ghee, chilled
4-5 tbsp ice water
*Spelt flour is an Avoid for type O non-secretor, substitute brown rice flour.
**Butter is an Avoid for types A and AB secretors and non secretors.
Base Ingredients for the Filling:
2 tsp olive oil
1 shallot, diced
4 cups baby spinach
2 cups broccoli, or broccolini, florets
1 cup feta cheese*
2 large eggs
⅓ cup vegetable stock
2 tbsp fresh thyme
Sea salt, to taste
*Feta is an Avoid for type O non-secretors, substitutions below.
Instructions:
Preheat the oven to 375°F.
To prepare the crust:
Place flours, baking powder and salt in a bowl.
Cut the cold ghee or butter into small pieces and add to flour and mix until flour resembles coarse cornmeal. Small pieces of ghee/butter should still be visible.
Add cold water 1 tablespoon at a time, gently mixing after each addition, until mixture forms a dough. You may want to shape the dough into a ball, wrap in plastic film and refrigerate for an hour before kneading into your pie mould.
Roll dough out on a flat surface until it reaches 12 inches in diameter and is approximately ⅛ inch thick. Place dough into a 9 inch pie plate, gently press into the pan, and pinch edges between two fingers to create crimped edges.
Par-bake the dough for 15 minutes.
To prepare the filling:
Heat olive oil in a large skillet over medium heat.
Sauté spinach, broccoli and shallot for about 4 minutes, until vegetables are tender. Remove from the heat and transfer into a large bowl, toss with choice of cheese and set aside to let cool.
In a separate bowl, whisk eggs, stock, thyme and salt. Pour over cooled vegetables and mix to combine.
Pour filling in par-baked pie crust, and bake 30 minutes, or until filling is firm.
Serve warm, let cool or refrigerate until cold.
Right 4 All Types Alternatives:
If you wish to add a variety of fillings to this pie, we recommend these:
Vegetables:
Zucchini
Asparagus
Kale
Onions
Portobello mushrooms
Green peas
Cheeses:
Pecorino
Romanian urda
Goat cheese
Mozzarella*
*Mozzarella is an Avoid for Type O non-secretor.
---