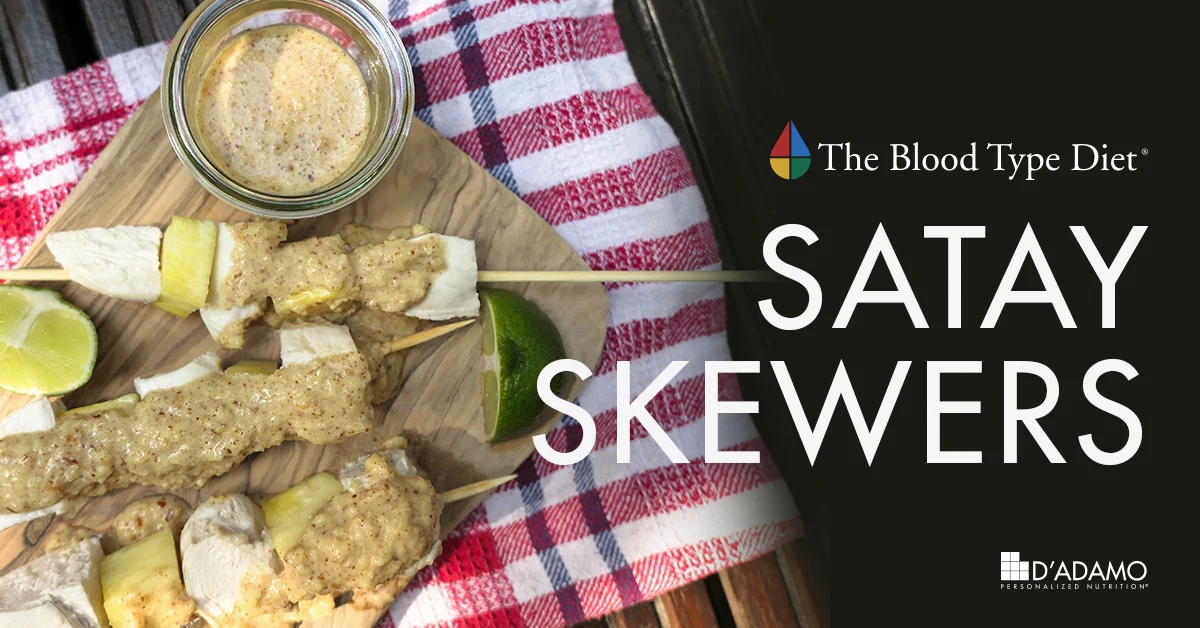 Satay is an Indonesian dish that traditionally consists of chicken marinated and cooked with peanut, shallots and chili sauce. A light and fun dish to have served on skewers, it is perfect for picnics and barbecues. With the heat of summer, we have prepared a satay inspired recipe with poached poultry and fresh pineapple, easy to prepare and take out. This lighter version is refreshing and suits all blood types.
Our satay skewers use seasonal, fresh, juicy pineapples that are available throughout the year. The sauce is made with almond butter instead of peanuts, which makes the sauce thick and luscious. We omitted the traditional chili as many are sensitive to it, but feel free to add a small teaspoon of paprika in the sauce if you want to add some spice.
Ingredients:

1 ½ Cups fresh pineapple, chopped and some extra to serve
4 Tablespoons almond butter, crunchy or smooth according to your preference
1 Turkey breast for Blood Types B & AB or 2 skinless and boneless chicken breasts for Blood Types O & A.
1 Tablespoon agave syrup
1 Garlic clove, peeled and whole
½ a lime's juice
2 Tablespoons of Tamari
1 Bay leaf
Water
Sea salt, to taste

Directions:

Peel and chop the pineapple in one-inch cubes and reserve. Prepare 1 ½ cups of chopped pineapple for the sauce and keep about 10 to 12 cubes for the skewers.
In a medium sized saucepan, place the turkey/chicken breasts with the bay leaf and cover with water at room temperature. Add a pinch of salt. Gently poach the poultry meat over a low heat 10 to 15 minutes (depending on the weight of the meat), until firm to the touch. Poaching is a great way to keep meat tender while not using fat to cook it. Once it is cooked through, drain from the water on a plate lined with a paper towel and reserve.
In a food processor, combine the almond butter, pineapple, agave syrup, the garlic clove, lime juice and tamari. If you are a Type O Non-Secretor, substitute the tamari for the poaching stock you saved. Mix until the ingredients are well combined and a sauce forms. Transfer the satay mixture to a pan and heat over medium heat for about 5 minutes. The sauce can be made chunky or smooth based on your preference.
On a cutting board, cut the turkey breast in 3 equal parts lengthwise, then in 4 widthwise. If using chicken breasts, cut them in half lengthwise and in 3 widthwise.
To make the skewers, simply alternate a poultry cube with a pineapple cube. Pack the sauce separately. You can use it as a dip during your outing, or cover the skewers with it and serve immediately!