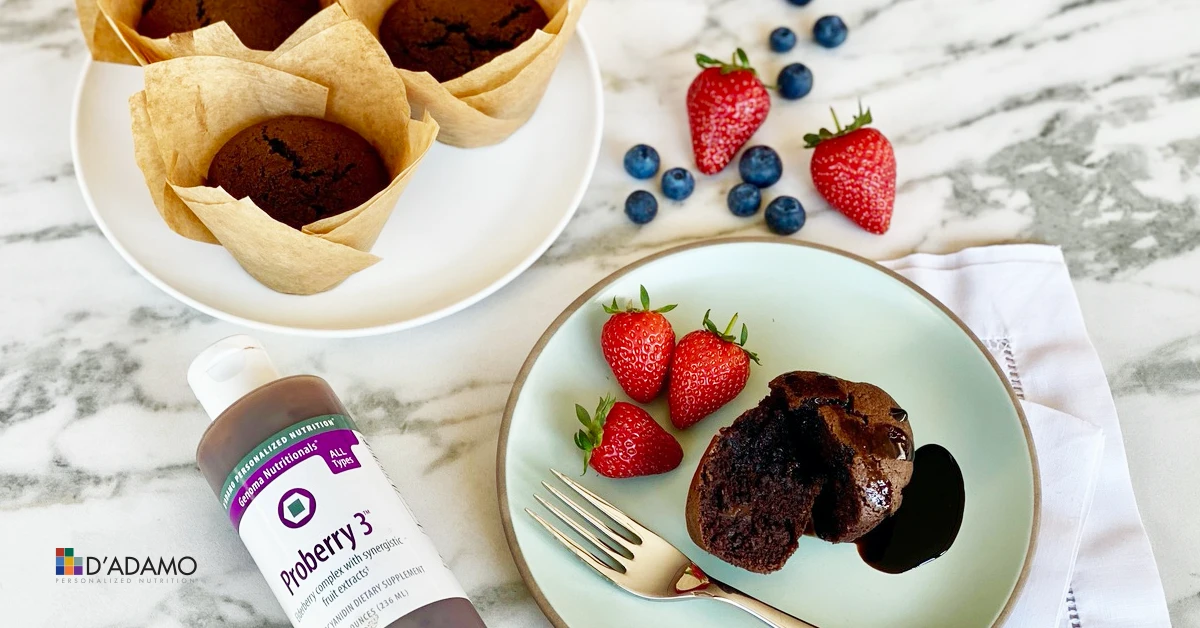 These plant-based muffins are easy to make and so tasty you'll forget they're good for you! They are easily customizable with your favorite fruits and nuts to fit the tastes of everyone in your family. If you're craving something sweet, these muffins will be ready in less than an hour. For the drizzle, our Proberry 3 Liquid is an immune-boosting berry syrup rich in antioxidants and is a delicious addition to any recipe. Chocolate and berries are a match we love, and this plant based version will not disappoint! For even more flavor and antioxidants, pair with our Sip Right 4 Your Type Teas, they are carefully crafted, packed with natural ingredients and personalized for each blood type. Find more nourishing recipes like this in Dr. Peter D'Adamo's Eat Right 4 Your Type Personalized Cookbooks.
Makes 12 muffins
Ingredients:
1 ¼ cup ground almonds

1 tbsp baking soda

1 cup rice flour

¼ cup cocoa powder

½ cup of dark chocolate chips

Water from 1 can of cannellini beans

½ cup agave syrup

¼ cup almond milk*

A pinch of sea salt
*Almond milk is an Avoid for type O non-secretor, substitute rice milk.
Garnish & Drizzle:
Proberry 3 Liquid

Blueberries

Raspberries

Strawberries*
*Strawberries are an Avoid for type O non-secretor, omit.
Instructions:
Preheat the oven to 325°F.

In a large bowl, combine all of the ingredients together and mix well with a fork or a whisk.

Pour the batter into muffin cups, filling only half of the cup.

Bake for 20-30 minutes. Insert a toothpick to check doneness.

Serve with a drizzle of ProBerry syrup and top with berries.
---