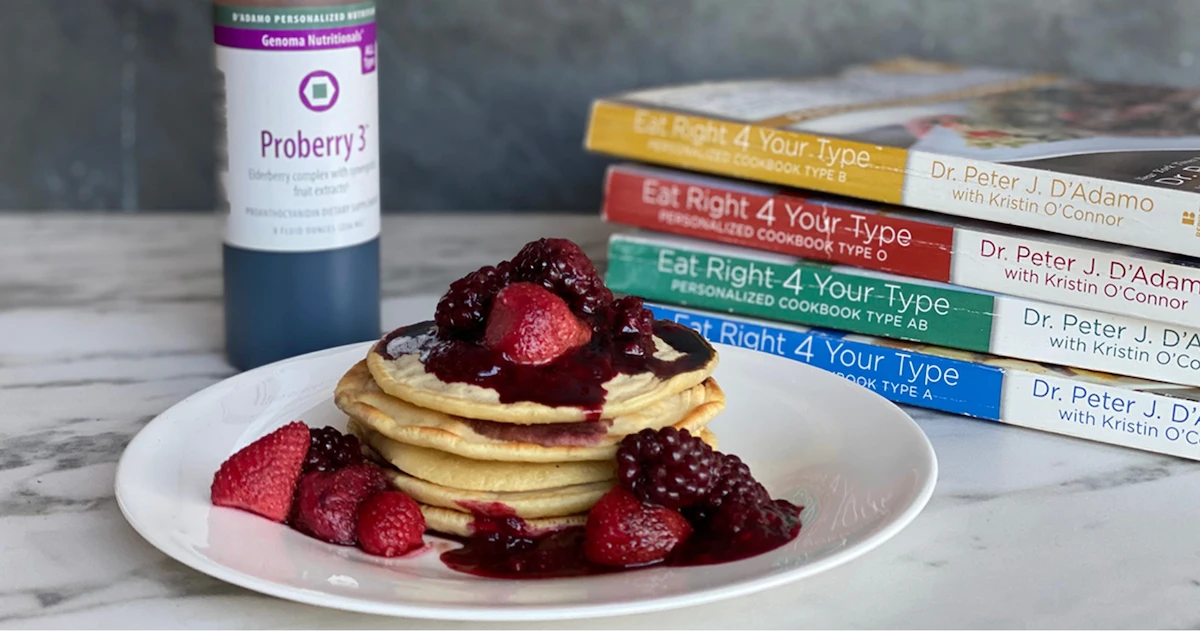 Gather everyone in the kitchen for this nice breakfast, brunch or afternoon treat. These pancakes are simple to assemble and easily adapted for all types. Our Proberry 3 Liquid is an immune-boosting berry syrup rich in antioxidants and a delicious addition to any recipe. You won't even need maple syrup (an avoid for some non-secretors).
Find more nourishing recipes like this in Dr. Peter D'Adamo's Eat Right 4 Your Type Personalized Cookbooks.
Makes 10 small pancakes
Ingredients:
1 egg (chicken)
1 cup flour (wheat flour is an avoid for most. see below for options)
¾ cup almond milk*
2 tbsp melted ghee
2 tbsp agave syrup or sweetener of your choice (see below for options)
1 tsp baking soda
Olive oil, for greasing the pan
2 cups frozen berries (be sure to choose ones that are right for your type. see below for options)
Walnuts, pecans or nuts of your choice to garnish (see below for options)
*Almond milk is an Avoid for Type O non-secretors. Substitute rice milk.
Instructions:
In a bowl, whisk egg, flour, almond milk (or rice milk), melted ghee, baking soda/powder and 1 tbsp of sweetener until well combined.
Lightly oil a non-stick pan and place over medium heat. Spoon about 2 tbsp of batter for each pancake. When they bubble at the top, flip them to color evenly on both sides. Repeat with remaining batter.
In a separate pan, cook the frozen berries with a splash of water and the remaining agave syrup/sweetener over medium heat until stewed down to a thick consistency.
Stack the pancakes, top with stewed berries, sprinkle nuts of your choice and drizzle with Proberry 3 Liquid.
Convenient Swaps | Right 4 All Types:
Flour:
Brown rice
White rice
Spelt (Avoid for Type O non-secretors)
Nuts & Toppings:
Walnuts
Almonds
Chia seeds
Flax seeds
Hemp seeds
Pecans
Macadamia
Sweetener and Syrups:
Agave
Blackstrap molasses
Molasses
Berries:
Açaí
Cranberries
Raspberries
Blueberries
Mulberries
Elderberries
Youngberries
Loganberries
Boysenberries
Gooseberries
Lingonberries
---