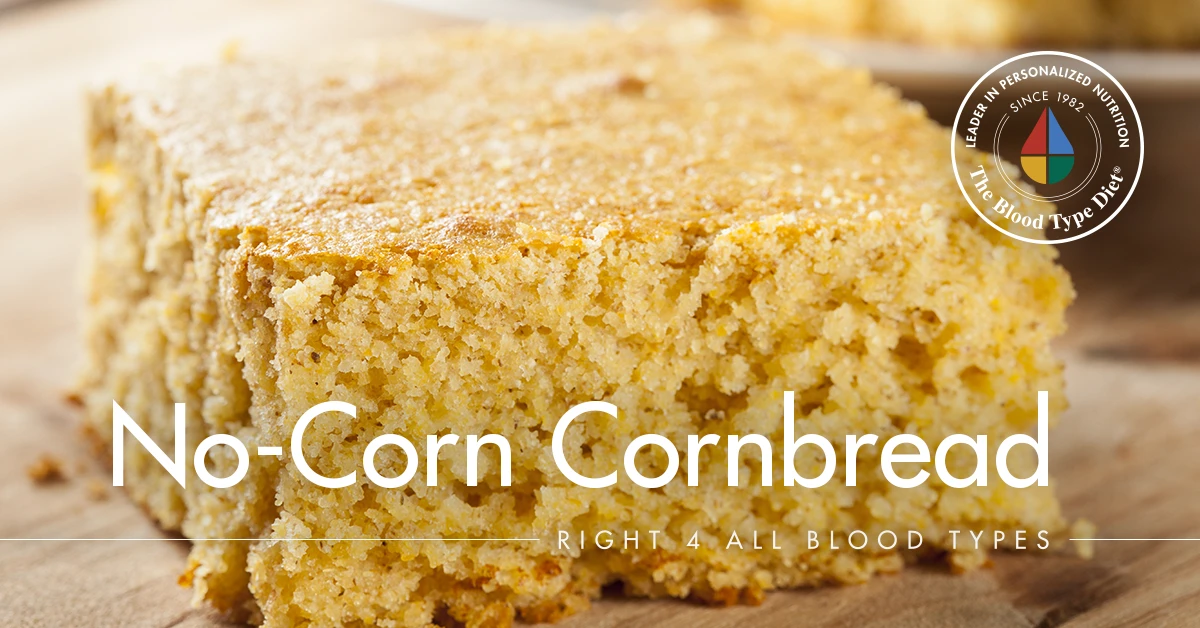 Cornbread is a typical Thanksgiving family favorite, but what do you do when corn is an Avoid for your Blood Type or GenoType? You improvise, of course! Kristin O'Connor, co-author of our Eat Right for Your Type Personalized Cookbooks, designed this amazing cornmeal-free recipe that simulates the taste of cornbread. Whip up a batch and re-create grandma's cornbread stuffing on Thanksgiving, or serve it throughout the winter as a hearty side with chili or soup.
Ingredients:
1 cup millet flour
½ cup quinoa flour
¼ cup brown rice flour
¼ cup almond flour
2 teaspoons baking powder
½ teaspoon baking soda
½ teaspoon fine sea salt
Pinch turmeric
3 large whole eggs
¾ cup rice milk
4 tablespoons of ghee, melted and cooled (plus more for greasing)
2 tablespoons agave syrup
Instructions:
Pre-heat the oven to 375°F. Grease an 8 x 8 baking dish with ghee.
Start by combining the dry ingredients in a large bowl: millet flour, quinoa flour, rice flour, almond flour, baking powder, baking soda, salt and turmeric. Mix until well-blended.
In a separate bowl, whisk the wet ingredients: eggs, milk, ghee and agave. Add the wet mixture to the dry ingredients, and stir until free of lumps.
Pour batter into the greased baking dish and bake for 25-30 minutes or until a toothpick inserted into the bread comes out clean.
Once bread has cooled, you can achieve a toasty crust by turning the oven up to 400°F and cutting the bread into 1 inch cubes. Place cubed bread on a baking sheet in a single layer, and toast for 6-8 minutes, flipping once so that the bread becomes evenly toasted and slightly browned around the edges.
Find more delicious, simple to prepare recipes in the Eat Right for Your Type Personalized Cookbooks (great budget-friendly gifts at only $10.80 each).
---