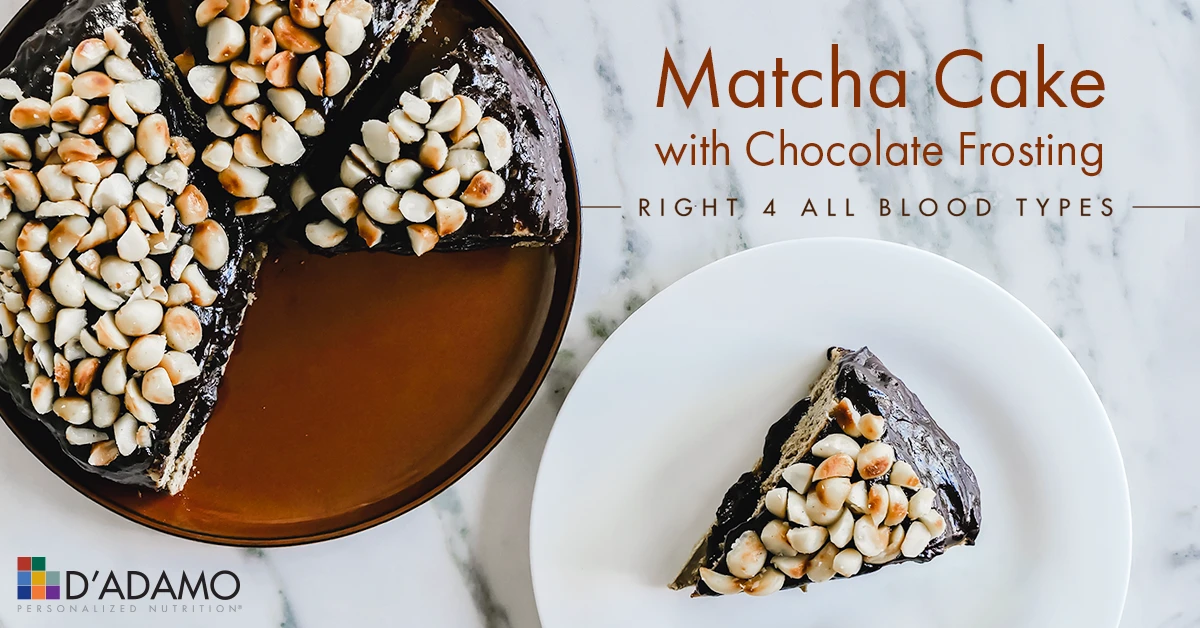 When it comes to summer dessert ideas, why not try a nutty twist on a traditional favorite? Straight from our Eat Right 4 Your Type Personalized Cookbook, our Matcha Macadamia Nut Cake combines moist goodness, creamy chocolate frosting, and all the health benefits of macadamia nuts mixed into one crowd-pleasing treat. Be sure to check out all our cookbooks for more tasty ideas!
Ingredients for cake:
4 tablespoons ghee, melted and cooled, plus 1 tablespoon for greasing
1 tablespoon matcha powder
1 ½ cups brown rice flour
1 cup millet flour
3 teaspoons baking powder
½ teaspoon fine-grain sea salt
¼ teaspoon ground cloves
1 teaspoon lemon zest
½ cup agave
2 large eggs plus 1 egg yolk
⅓ cup compliant milk*
3 large eggs, whites only
Ingredients for frosting:
½ cup compliant milk*
4 tablespoons agave
3 ounces 100% dark chocolate, grated
2 tablespoons ghee
2 tablespoons cocoa powder
⅔ cup chopped, toasted macadamia nuts
¼ cup allergy-free chocolate morsels
*Compliant milks:
Type O: Almond milk (non-secretor substitute rice milk)
Type A: Almond milk
Type B: Almond milk or 2% cow's milk
Type AB: Almond milk or 2% cow's or goat's milk
Instructions:
Preheat oven to 350°F. Grease two 9-inch-round cake pans with ghee, and set aside.
Combine matcha, flours, baking powder, salt and cloves in a large bowl.
In a separate bowl, whisk together lemon zest, agave, ghee, eggs, yolk, and milk, and set aside.
Place egg whites in a glass, copper or metal bowl and beat on high until egg whites form stiff peaks
Add wet mixture to dry mixture, and stir until well combined and free of lumps. Gently fold egg whites into batter, one-third at a time.
Divide batter evenly between prepared cake pans. Bake on middle oven rack for 25 minutes until cake is firm and cake tester comes out clean. Cool in cake pans for 10 minutes, then remove and cool fully on wire cooling racks.
Heat milk and agave in a small saucepan set over medium heat for 2 to 3 minutes. Place grated chocolate in a bowl with ghee. Pour hot milk mixture over chocolate and stir until smooth. Let cool completely. Add cocoa powder and stir until mixture thickens.
Spread slightly less than half the frosting on the first layer of cake, top with the second layer, and use an offset spatula to spread remaining frosting over the top of the second tier of the cake. Sprinkle with toasted macadamia nuts and chocolate morsels. Enjoy!
---