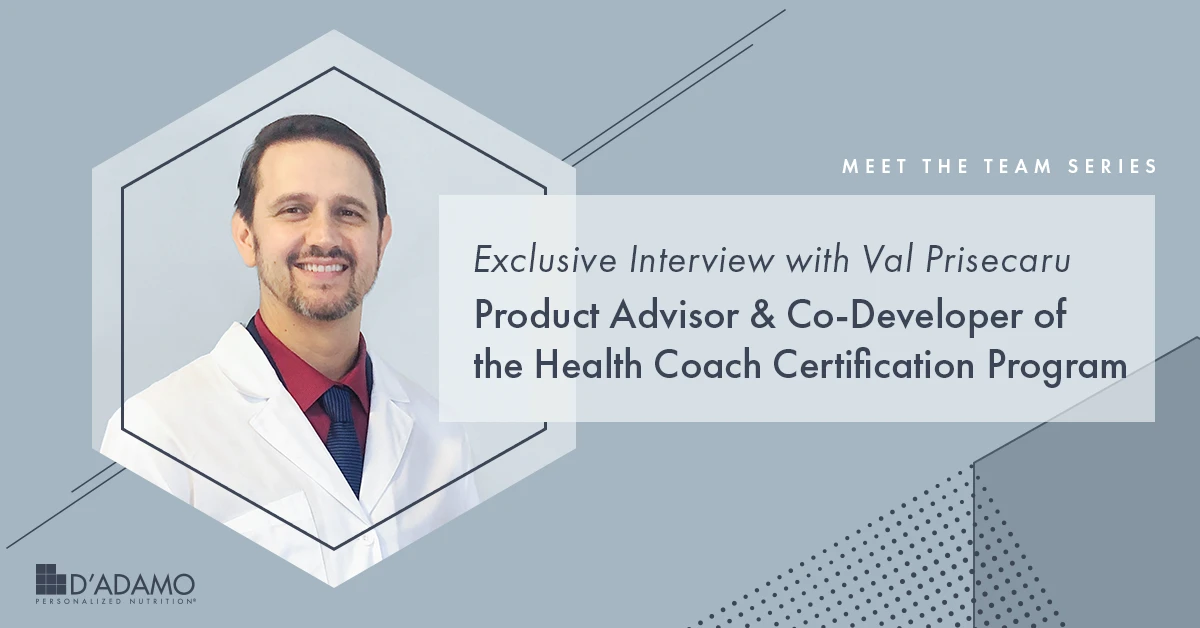 The D'Adamo Personalized Nutrition team is populated with like-minded, analytical, dedicated professionals who believe in The Blood Type Diet and its cultural embrace of personalized nutrition and healthcare.
Meet Val Prisecaru, DPN Product Advisor & Co-Developer of the Health Coach Certification Program. His work in food science, human nutrition and physical chemistry is highly regarded in naturopathic circles and beyond. As a consultant to D'Adamo Personalized Nutrition, Val continuously collaborates with Dr. Peter D'Adamo on state-of-the-art projects, including designing genotype algorithms and creating curriculum for our upcoming DPN health coach certification program.
" Val has become my 'force multiplier,' my secret weapon. He has an insatiable thirst for knowledge and discovery, and is one of those rare scientists whose exposure to new information typically serves as a mere starting point for new and exciting associations and discoveries. His training in traditional nutrition science has provided him with the research and analytic tools needed to make sense of the exploding world of nutrition research, and his innate sense of wonder and curiosity gives him a unique ability to think outside the box. Which is great, especially if you also know how to think inside the box as well." - Dr. Peter D'Adamo
1. Can you tell us a bit about yourself?
Since I was 15 years old, I was interested in health and wellness. But it wasn't until after I studied aerospace engineering for three years at UCLA that I switched my focus. I transferred to the University of Illinois at Urbana-Champaign and changed majors to food science and human nutrition. For the first time in my life, I realized it was my destiny.
2. How and when did you discover Dr. D'Adamo's work?
One day in 1998, I was strolling around the health and fitness isle at the local Barnes and Noble, trying to find another interesting health and nutrition book to read, when I came across Dr. D'Adamo's Eat Right 4 Your Type. I found The Blood Type Diet concept fascinating, especially since there was so little information out there on personalized nutrition. At the time, I had no idea what my blood type was, but I suspected it may have been AB. It turned out I was an A non-secretor, so I was close. I remember Peter and I emailing back and forth shortly thereafter, but we didn't actually start working together and collaborating until 2014.
3. How has this work influenced your treatment style?
As a natural, holistic-focused nutritionist, I'm happy to say that Dr. D'Adamo's work has influenced my treatment style more than any other individual or theory. When it comes to Peter's ideas on health and wellness, different aspects of his theories are proven year after year in modern medicine. As Peter would say, nobody wants to be a subset of somebody else's theory. His theories have a habit of swallowing up other theories and being a lot more accurate than anybody else's, too. Today's nutrigenomic and microbiomic fields continue to prove just that.
4. Can you share a case history?
One recent case was a woman in her mid-40s who had been suffering from what appeared to be SIBO-dominant celiac disease with major bloating. She came to our clinic earlier this year, after having been to multiple allopathic and natural doctors, and having spent thousands of dollars with minimal success.
The problem was as it often is. She was already eating pretty clean, but she didn't actually know which foods were healthy for her blood type, secretor status, genetics, or microbiome. We took a look at her lab work--she even had a Promethease report as well as a microbiome report--and we did additional genetic testing on her as well as another microbiome test, using Opus23 to analyze everything. She didn't turn out to have any major celiac-related variants, but she was homozygous for a glutathione reductase (GSH) variant, among a few others. She also had very low secretory IgA levels, despite being a secretor. This was probably due to all the inflammation in her GI enterocytes, as well as her microbiome imbalances.
I suggested the standard Blood Type A secretor diet with lots of Deflect A (containing N-acetyl cysteine), as well as ARA6. Since her uBiome data had revealed ZERO bifido, we also recommended straight bifido, as well as PolyFlora A. Finally, we had her add some arugula and some Okinawan-style purple sweet potatoes to her diet, per an excellent suggestion by Keith Bell. Within two months, she was feeling much better.
5. Can you share a little about the projects you and Dr. D'Adamo working on now?
One of the many projects I'm working on with Dr. D'Adamo is scouring the internet and PubMed to discover new research and add critical new information to the Opus23 databases. Between Opus23 and Utopia, we currently have close to 400 algorithms, analyzing over 3300 genes as reported in almost 3000 peer-reviewed articles, with a grand-total of almost 12,000 gene-agent associations. No other program on the planet even comes close to one-tenth of this, and even if it did, it wouldn't know what to do with all the data. We have the networks properly mapped out, the artificial intelligence-based analytics to interpret it, and glycobiology incorporated into the equation.
Another project we're working on is the D'Adamo Personalized Health Coach program, which will launch by the end of this year, and promises to be the leading health coach online program in the country, if not globally, within two or three years.
It's been an absolute pleasure working with Peter, and I wish him many more years of this, with zero retirement whatsoever!