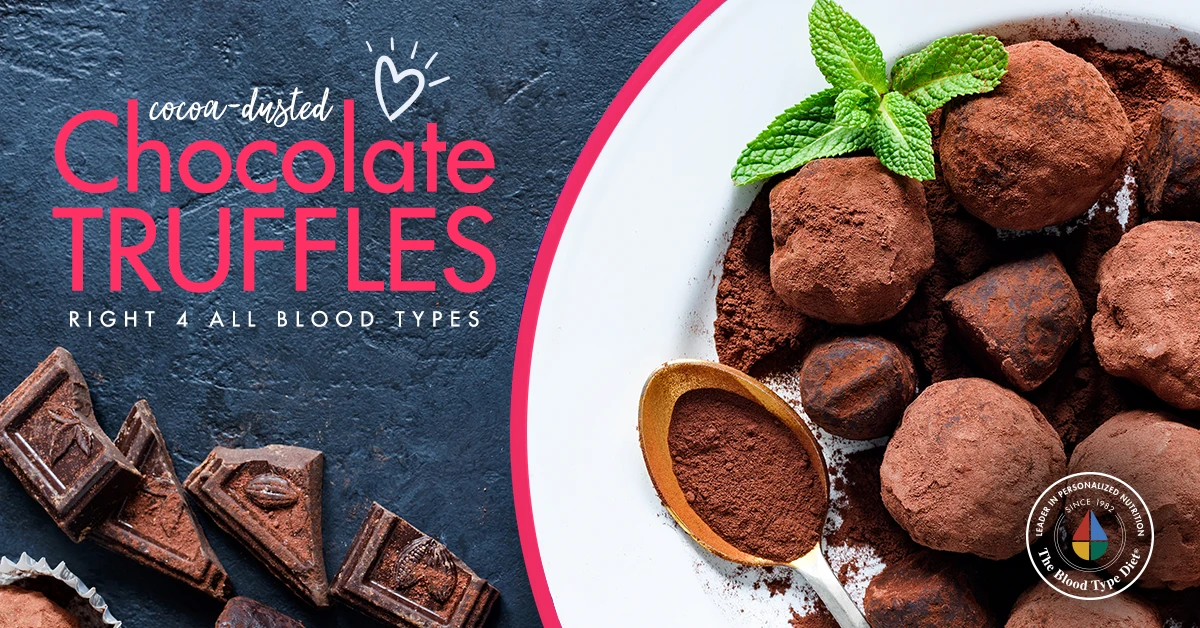 Truffles are one of the most classically romantic forms of chocolate, bite-sized, dainty and oh so delicious. Believe it or not, they can be Blood Type Diet friendly as well. By using pure dark chocolate, cocoa powder, and just a few other simple ingredients, you can make this recipe in mere minutes. Then you can decide if you want to be romantic and share them with your loved ones or keep them all to yourself. This recipe was excerpted from our Eat Right for Your Type Personalized Cookbooks by Dr. Peter D'Adamo with Kristin O'Connor.
Ingredients:
8 oz 100% dark chocolate
¼ cup butter or ghee*
⅔ cup agave nectar
½ cup almond milk**
⅛ teaspoon large grain sea salt
3 tablespoons cocoa powder
*A & AB use ghee.
**O non-secretors substitute almond milk with rice milk
Directions:
Shave chocolate and place in a medium bowl.
Warm agave nectar, ghee, milk and salt in a saucepan. Once warm, pour the mixture over chocolate, whisking continuously until mixture becomes smooth.
Let the mixture come to room temperature, then cover tightly and refrigerate until chocolate is firm, about 2-3 hours.
Use a tablespoon or melon baller and scoop out truffles, roll into balls, slightly smaller than a golf ball, and gently roll around in cocoa powder. Refrigerate until serving.
Store in an airtight container in the refrigerator for up to a week.
---