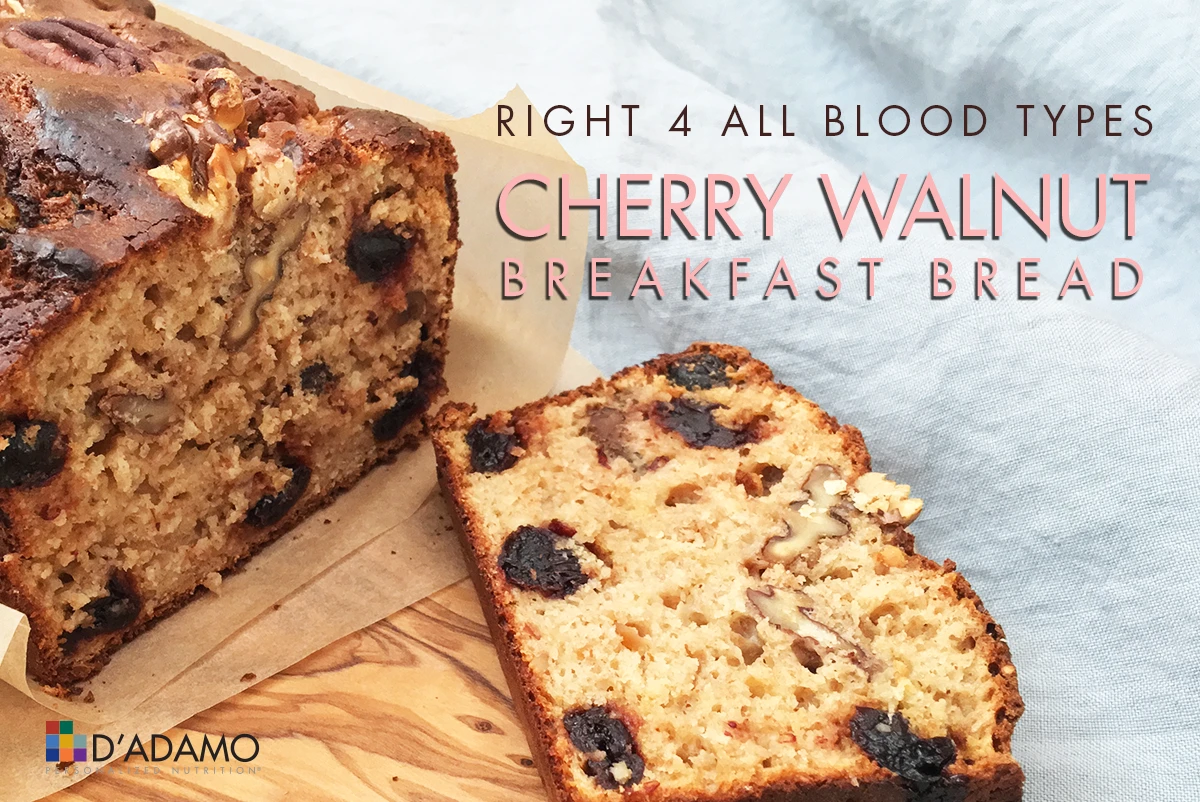 Finding bread that is Right 4 Your Type can be tricky. Many grains and flours are not compatible with all types, and other common baking ingredients follow suit. But a warm, toasted piece of bread, especially in the morning, can be a fantastic start to your day that we don't want you to miss out on. With this delicious cherry walnut bread, you can get that tasty bread fix while also getting the health benefits of fruit and the protein from nuts. The recipe is simple and adapted to be Right 4 All Types, so you can enjoy it no matter what. Just make sure the topping you put on it, whether it be jam or nut butter, also is the right one for you. Find more recipes like this one in Dr. Peter D'Adamo's Eat Right for 4 Your Type Personalized Cookbooks.
Cherry Walnut Breakfast Bread
[ Right 4 All Blood Types ]
Ingredients:
4 eggs
1 ¼ cups clarified butter
1 ½ cups spelt flour*
1 ½ cups rolled oats*
½ cup honey*
1 tsp baking powder
1 cup dried cherries
Handful of dry roasted walnuts and/or pecans
Directions:
Heat your oven to 350º F.
In a bowl, whisk the eggs until frothy.
Add the clarified butter and whisk for about 3-5 minutes.
Add the dry ingredients, honey, cherries and nuts until well combined.
Pour the mixture in a non-stick cake tin and bake for about 35 minutes or until a toothpick comes out clean.
You can toast your breakfast bread and add a generous layer of nut butter or jam - choose ones right for your blood type.
*Note: Non-secretors, please substitute where appropriate.