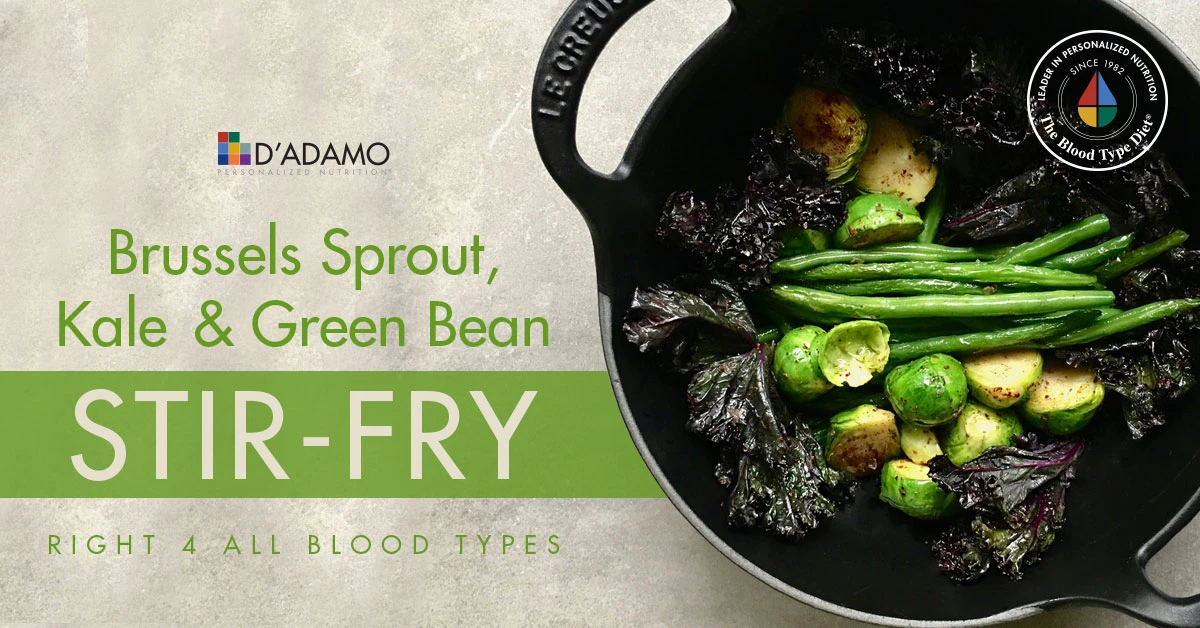 The winter holidays call for comfort and a lot of excessive eating and feasting! Fear not, it is easy to enliven your table with healthy seasonal dishes that will add color and a festive note to your holidays. Brussels sprouts are the star of the show this winter. They are packed in vitamins and fiber, can be eaten shredded raw in a slaw, grilled, stir-fried or steamed! We like to keep some of that flavor and crunch and stir-fry them with green beans and red kale. This dish is versatile, can be enjoyed with some rice or as a side dish to your mains.
Brussels Sprout, Kale & Green Bean Stir Fry

[ Serves 2-4 ]

Ingredients

14 oz green beans, cleaned and trimmed
14 oz Brussels sprouts*, cleaned and sliced in half
A generous handful of red or purple kale, cleaned and stems removed
3 tablespoons of extra-virgin olive oil
1 teaspoon of sumac
A pinch of salt

* Blood type O non-secretor can swap brussels sprouts with broccoli for a superbeneficial!

Directions

In a large non-stick skillet, heat 1 tablespoon of olive oil over medium-high heat.
Add the Brussels sprouts with a little salt and the sumac and stir vigorously for about 5 minutes. Add the green beans and keep stirring for another 4-5 minutes. Transfer to a serving dish.
In the same pan, add another tablespoon of olive oil. Add the kale leaves with some salt and stir until they crisp up. Add them to the vegetables.

Enjoy warm!