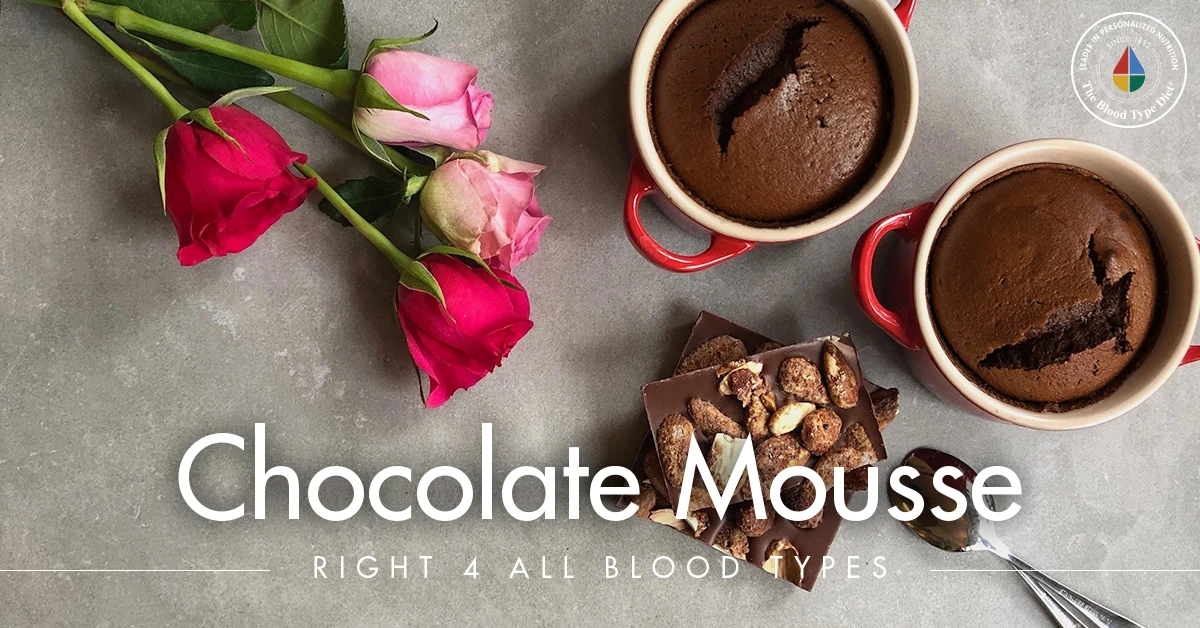 For Valentine's Day, what better treat is there than chocolate? Break predictability by making your loved ones a homemade chocolate mousse in lieu of a box of chocolates. This soul-warming recipe is suitable for all blood types. Customize with cocoa nibs, candied ginger, seeds or a simple dusting of pure cacao. The options are endless!
Serves 2



Ingredients:

3½ oz dark chocolate (60% cacao or above)
3 eggs, at room temperature, yolks and whites separated
1 to 2 tablespoons of agave syrup for a sweeter mousse, optional

Instructions:

Preheat your oven to 350°F.
Using a double boiler, melt chocolate.
Beat egg whites in an electric mixer with a whisk attachment, until they form firm peaks.
Lightly whisk yolks. Add melted chocolate and agave, if using, and mix well.
Incorporate egg whites to chocolate mixture gradually, until well combined.
Pour chocolate mousse mixture into 2 separate ramekins.
Place ramekins in a high-sided baking tray. Fill tray with water until water level reaches halfway up ramekins.
Bake in oven for 12 to 15 minutes, until cooked through and toothpick comes out clean. Enjoy warm or at room temperature.

---